What Is the Difference Between a SIEM and SOC?
With the growing sophistication of cyber threats, businesses are now finding out ways to further protect their data, brand reputation, and stakeholders from these increasing and ever-changing attacks.
To protect your organization from cyber-attacks, the solution is to invest in security software such as SIEM or SOC. This software has gained a lot of popularity in recent times. But usually, people confuse SOC with SIEM and vice versa. It is important to know the difference between SIEM and SOC to make an informed choice for your business.
SIEM is the software that is used by experts in the security industry and it provides a complete view of the cybersecurity position of your organization on a real-time basis. It works by collecting, managing, and then finding correlations between the data of log and events. It can detect threats and gives alerts to the analysts so that they can respond to threats on time.
SOC is also a software which encompasses SIEM. SOC is using SIEM technology with a team of engineers and analysts that can identify, respond, and analyze the threats of cybersecurity and works continuously to prevent cyber-attacks. Let us learn about both the systems in detail: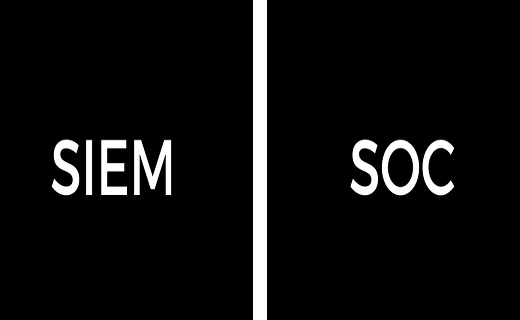 What is SIEM?
SIEM is a security information and event management system which has multiple tools which provide information which is required to help the business's security teams to detect security threats and manage events of security effectively. It combines the benefit of SEM i.e. security event management and SIM i.e. security information management to give a continuous and real-time view of the IT infrastructure of the business.
By gathering and analyzing the event and log data from multiple sources, SIEM systems monitor the IT environments continuously to detect potential threats. After that, the system alerts the security teams about the threats and allows them to investigate and respond to threats efficiently with proper insights.
Limitations of SIEM:
The system can find out evolving threats of security and is a quite powerful software for any organization. But deploying a SIEM software does not ensure that your business is secure as it has few limitations too:
1. Garbage out/in: many people feel that the more data of logs and events, when added to the SIEM, will give a better security picture. But this is not correct. The concept of Garbage in Garbage Out i.e. GIGO works for SIEM systems and many businesses do not understand this. They put a lot of log and event data into the SIEM system and this gives rise to unwanted security and data alerts. Many times, false alerts and warnings are given out and important incidents get missed out.
2. False positives: with SIEM software, thousands of alerts are generated per day. This makes false positives completely inevitable. Many times, security teams do not pay attention to these alerts and security is compromised. It is necessary that an expert analyzes the alerts to check if they are legitimate or not.
3. Time-consuming and costly: for a SIEM software one needs to have monitoring round the clock, regular configuration and maintenance are also needed. This is a big task for any business. One has to employ a full-time expert team which is dedicated to managing SIEM solutions. This is complex as well as time-consuming and can be a huge expense for the organization.
To address this shortfall, a business needs more than just SIEM which is SOC i.e. Security operations center.
What is SOC?
SOC is complementary to SIEM as it provides resources to manage it. SOC is a team of security experts who are dedicated to the use of SIEM tools to monitor the IT infrastructure of a business, search for potential threats, and respond in case of attacks. SOC organizations get an extra line of defense against cyber threats, internal as well as external. The response time is quicker and financial, operational, and reputational damage for a cyber-attack is lower with SOC.
Benefits of SOC:
SOC is outsourcing your cybersecurity needs to a managed security service provider or MSSP. The MSSP team can also work with the in-house team of a business. This has multiple benefits such as:
Lower costs.
Quick deployment and maintenance.
Latest and upgraded technology.
24X7 monitoring of your SIEM solution.
If you are also looking to outsource your security solution needs then get more information on our website https://www.comodo.com/partners/mssp/. you can contact us for a free quote.
Difference Between SIEM and IDS
Related Resource