Reduce your Attack Surface Using Endpoint Manager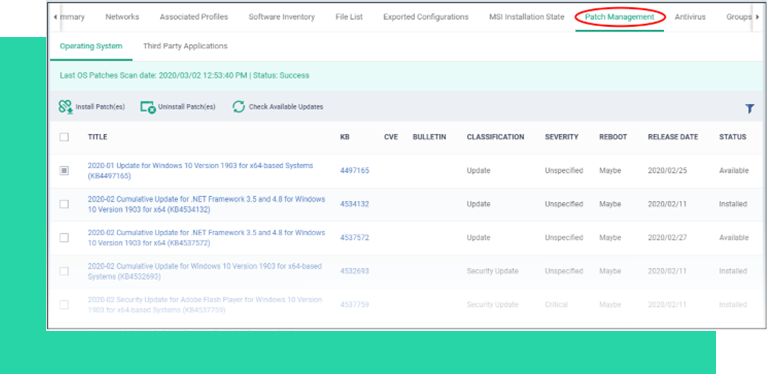 Proactive updates for optimal security
View patches needed on devices, applications, and operating systems communicating with Endpoint Manager. Consolidate time, resources and efforts by centralizing your activities into one simple to use patch management system.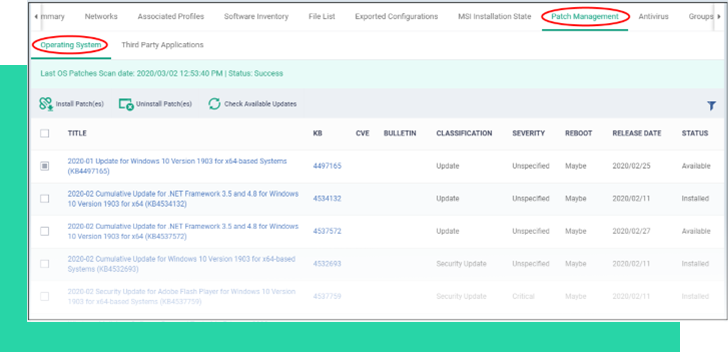 Keep your endpoints up to date
Protection against zero-day web threats, without hindering employee productivity. Detect 100% of unknown fileless threats with Comodo's intelligent file analysis engine. Apply our recommended policy, created upon a meticulous examination of threat behavior analytics.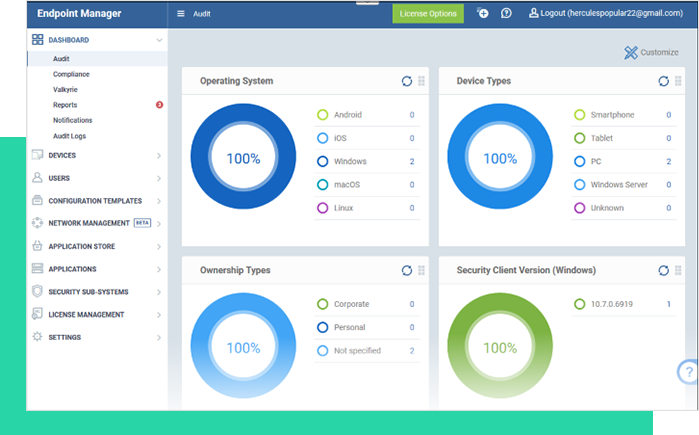 Discover, Audit, Compliance- all-in-one
The dashboard shows real-time data about the operating system, connection status and security posture of all devices enrolled to Endpoint Manager. The dashboard also lets you view threat results, notifications, and generate reports.
Endpoint Manager Feature Capabilities
Manage your device's operating software to ensure Linux, Windows or Mac systems are optimized, protected and secured.
Recommended Security Policy
Each profile lets you specify a device's network access rights, overall security policy, antivirus scan schedule settings.
Update your devices, OS, and 3rd party applications manually or automatically through one consolidated list.
The scan will identify both managed and unmanaged devices. You can configure EM to alert you if a scan finds new devices.
Our lightweight agent to collect information and drill down into incidents with base-event-level granularity.
Create procedures and monitors to track certain activities and generate an alert if their conditions are met.
Valkyrie Verdicting Engine
Conducts multiple arrays of run-time behavioral analysis against unknown files to provide a verdict of safe quickly and automatically or malicious.
Auto Containment Compatibility
Automatically runs from patented virtual container that does allow threats to access the host system's resources or user data.
Bulk Device or User Enrollments
Push or rollback updates more efficiently with bulk installation area lets you download the communication package.