What Is SIEM Software?
Siem Software gives the organization's security management team of professionals, deep insight into the records of different activities carried out within the organization's IT department. Based on this let's discuss What is SIEM software? How it works and how to choose? With the help of SIEM advanced technology, a combination is done between the security management that further allows breach monitoring, incident response, and event correlation to security management. SIEM will be able to collect data, analyze it, and later on, report its findings on log data. Siem technology has been used for quite a long time and in the long run has been advancing. A combination of Security Event Management which deals with the analysis of both log and event data in actual time to allow breach monitoring, event linking, and incident response with the help of Security Information Management which gathers analyzes and records log on data.
How Does Siem Work?
Siem Software works by collecting and aggregating log data that has been generated across the entire company's technological infrastructure from a variety of host systems and programs to interconnections and security devices for instance;
Firewalls.
Antivirus filters.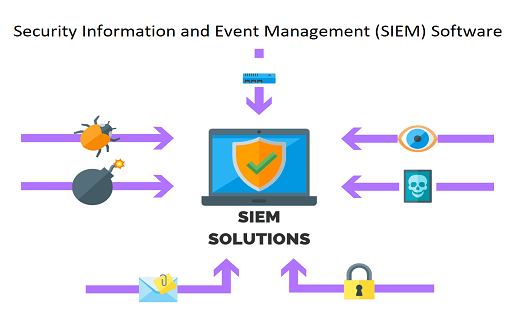 The software further identifies and classifies attacks, events, and analyzes them. The software delivers based on these two main aims.
Give reports on security-based attacks and events for instance; malicious activities, successful logins, failed logins, and malware activities.
Automatically send an alert once the analysis ends up showing that activity has run against a set of rules and furthermore indicating potential security incidents.
Analytics and Intelligence.
The prime drive behind Siem Software used for security functions is the ability to contain a lot of products found in retail. Siem technology is trending of late and thus vendors have been forced to introduce new features into the technology. The latest feature that has been added to Siem is threat intelligence to long-established log data. It's also characterized by security analysis that takes care of the network and the user's behavior giving more intelligence. Siem technology is advancing and making more innovations in the Siem market. In years to come, it will be a perfect threat detection tool. Siem dealers are introducing machine learning, exceptional statistical analysis, and more analytical methods. Some traders have also ensured that artificial intelligence and in-depth learning capabilities have been included.
These advanced Siem products will make use of machine learning and artificial intelligence to do pattern-based and intrusion monitoring and notify the IT team of professing about malware and malicious activities.
How to choose the perfect Siem tool.
There are a variety of dealers in the market selling siem tools such as; Trustwave, IBM, Intel, Splunk, Alert Logic, Micro Focus, LogRythm, HPE, Manage Engine and Solar Winds. Technology experts have advised that before purchasing any Siem tool, organizations should ensure that they thoroughly evaluate the product tool based on their main objectives and narrow down to the tools that best suit their needs as an organization. Organizations should select the Siem tool after evaluating the tool's capabilities such as; -
Reporting.
Threat Hunting.
Data Visualizations.
Analyzing features.
A perfect Siem system tool makes use of in-depth learning, artificial intelligence, and device learning which identifies and categorizes events and threat incidents.
Organizations that store tons of data tend to find vendors easily who meet their requirements as opposed to organizations that store less data who might consider using other options when it comes to detecting security threats instead of buying siem security tools. Organizations that want exceptional threat detection will definitely go for the topmost visualization siem system tools that have outstanding capabilities. The security team needs to consider factors such as; if they purchase a certain tool will they be able to maintain it. The amount of data their IT system can hold also determines the type of siem tool to purchase.
Can the Siem security tool enhance the prevailing logging capabilities? A company's specific program and software may not have robust logging abilities. This will, in turn, need you to purchase Siem system software tools that can offer enhancing services by executing their own observation apart from log management. Can the Siem tool execute threat intelligence effectively? As an organization, you need to consider this factor when purchasing the Siem tool. Tools featuring these feeds are regularly acquired from different subscriptions which are updated with information concerning threat activities globally. If an organization uses these feeds, Siem automatically identifies attacks and makes informed decisions accurately on how to stop the said attacks.
Summary.
The above are some of the ways an organization needs to consider when purchasing the Siem Software security tool. As an organization, you need to consider buying the perfect security tool that best suits the needs of your organization's security.
Potential SIEM Problems (and How to Solve Them)
Related Resource