SIEM is a security information and event management system which has been used under different names since over a decade. With more complex cyber threats and attacks, even security systems have evolved. What does a SIEM solution do? With SIEM solutions you can get a holistic view of the things that are happening in your organization's network on a real-time basis. This helps the security analysts and IT teams to take proactive actions against attacks and security breaches.
A SIEM system combines the benefit of SEM i.e. Security event management with SIM i.e. Security Information management. SEM does an analysis of log data and events on a real-time basis to provide threat management, event correlation, and incident response. SIM is responsible for retrieving and analyzing the log data to generate reports. With SIEM organizations get complete control and visibility of their network in real-time.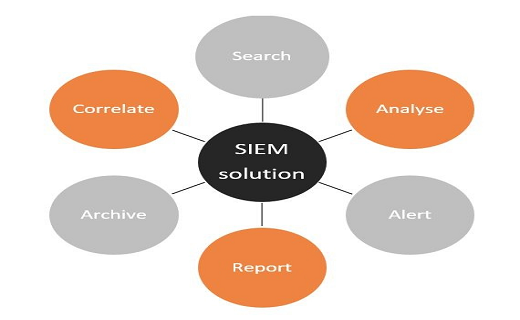 Working on a SIEM system:
SIEM software solutions collect event and log data which is generated by security devices, host systems, and applications present in an organization and collate it together on one single centralized platform. SIEM solutions identify data such as antivirus events or firewall logs and then sort it, categorize it for better analysis.
When SIEM software finds an activity that can be a threat for the organization then it generates an alert to show a potential security breach. The security analyst can configure these alerts as a high or low priority based upon pre-set rules. For instance, if a user account creates 20 failed attempts for login in a short period it can be considered as a suspicious activity with lower priority. But if the account gets 120 failed login tries within 5 minutes then it can be considered as a brute force attack with high priority.
Benefits of SIEM
SIEM is the solution which is providing a very powerful method for detecting the threats, reporting in real-time and long-term analytics of the security events and logs. This tool is incredibly useful for safeguarding the organizations of all the sizes.
The benefits are as below:
Prevention of Potential threats
Increased in the efficiency
Cost Reduction
Reduction in security breaches
Compliance with IT
Better log analysis, reporting, and retention
SIEM solutions are having the ability for collecting the event logs from multiple devices and applications. They are allowing the IT staff to identify, review, and respond to various potential security breaches very fast. When you are identifying the threat in the early stages it will ensure the organization is suffering from the minor impacts.
In short, SIEM will collect the security data events from multiple sources and allows the IT team to see the big picture.
How SIEM Product is selected
With a wide assortment of SIEM systems for you to browse, the beginning stage for product selection is building up what you trust a SIEM will give you, and what your specific needs are.
For instance, if your essential driver for purchasing a SIEM is compliance, at that point you are probably going to esteem a system that offers nitty-gritty detailed reporting abilities. If you need to set up a security operations center (SOC), at that point a greater security-centered product will be progressively suitable. If you need assistance spotting new dangers, at that point an item with better information data representation tools and search abilities will be increasingly valuable.
Your association's size is another significant deciding element: If you are producing 100,000 events per second (EPS), at that point you will be limited to a portion of the biggest capacity limit SIEM system.
How SIEM is Implemented
Implementing a SIEM can be an expensive and lengthy procedure, and you may think that it's valuable to utilize specialists or seller-provided proficient services to help guarantee implantation is completed productively and effectively. The final product will be a system that better addresses your issues.
Basic steps include:
Determining the system design, including dashboard and system for reporting, storage and indexing systems, and log collections system
Choosing proper equipment dependent on factors that incorporate the anticipated volume of log information to be gathered (estimated in events per second) and the number of log sources
Establish your storage requirements and how that will be given, alongside appropriate infrastructure storage network for accessing it
Installation of servers and programming or machines
System installation and configuration, including setting up log ingestion utilizing provided or custom connectors, setting up dashboards and reports scheduling, designing rules for correlation, and enabling every necessary caution