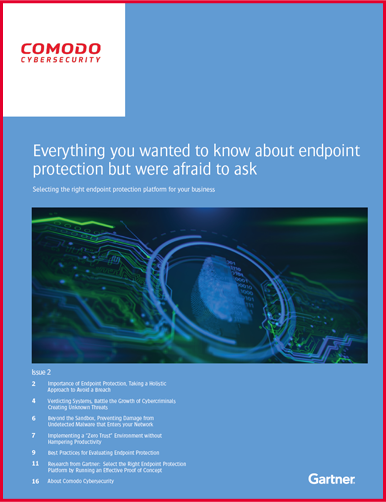 Selecting the right endpoint
protection platform for your business
Although a request for proposal process can result in a strong shortlist of candidate products, security and risk management leaders must run a thorough proof of concept to accurately determine which endpoint protection platform product is most suitable.
Highlights from the FEATURED GARTNER REPORT:
Importance of Endpoint Protection
Verdicting Systems
Beyond the Sandbox
Implementing a Zero Trust Environment
Best Practices for Evaluating Endpoint Protection
Research from Gartner
Everything you wanted to know about
endpoint protection but were afraid to ask
As organizations notice capabilities or process changes that conflict with their current implementation, they should not ignore these changes purely because "It's how it's always worked." Many organizations have policies and processes that are decades old, written for a time when threats were different and mitigations did not exist. As part of the POC process, discuss changes and concerns with Gartner analysts and with vendors (including your existing one), and ask for their best-practice recommendations.
On many occasions, Gartner clients discover that the benefits of switching to a new EPP vendor are not as big as marketing would have them believe. They realize that investing in other areas of basic IT hygiene will give them a stronger security posture in the long term.
Browse Our Resource Library

White Papers

Newsroom &
Press

Videos

Demo &
Use Cases

Case
Studies

Community
Tools

Data Sheets

Webinars

Reports