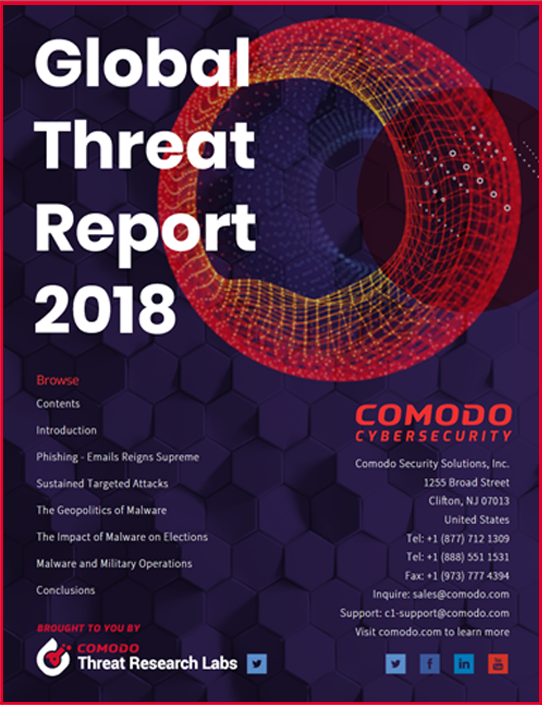 Where global intelligence and market-leading technology meet to Render Attacks Useless.
The Comodo Cybersecurity Quarterly Global Threat Report offers unmatched insight into today's evolving threat landscape – quarter by quarter, threat by threat. Leveraging our global presence of more than 86 million endpoints, these reports present timely threat findings and analysis and highlight today's most pervasive malware and cyber attacks. Our experts analyze and summarize malware patterns across geographies and industries, in response to commercial and geopolitical trends and events. This intelligence affords readers the information and awareness needed to stay ahead of increasingly sophisticated cyber threats and enables Comodo Cybersecurity to design and deploy effective, innovative solutions.
Highlights from the global threat REPORT:
Cybercrime is ultimately a business. Commercial ends require well-resourced, financially flush targets, putting enterprise organizations squarely in hackers' cross hairs.
Email continues to be the most popular means of malware delivery. The preference for email as a vehicle is not surprising.
Brand equity is a weapon that cuts two ways: emails apparently received from organizations with better-known brand names both inspire confidence and carry the possibility of carrying a phishing attack.
We will address six cases from very different parts of the world and provide strong evidence that malware now plays a major role in elections – no matter where they are held.
However, when a cybersecurity leader like Comodo, with ubiquitous presence on endpoints around the world, encounters upsurges in malware in conflict regions, reflections of those conflicts in cyberspace begin to stand out with great clarity.