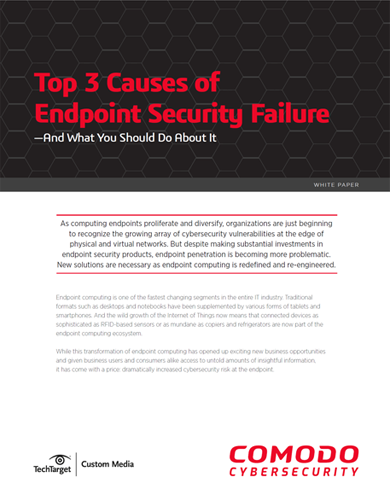 Top 3 Causes of Endpoint Security Failure
— And What You Should Do About It
As computing endpoints proliferate and diversify, organizations are just beginning to recognize the growing array of cybersecurity vulnerabilities at the edge of physical and virtual networks. But despite making substantial investments in endpoint security products, endpoint penetration is becoming more problematic. New solutions are necessary as endpoint computing is redefined and re-engineered.
Everything you wanted to know about
endpoint protection but were afraid to ask
Endpoint computing is one of the fastest changing segments in the entire IT industry. Traditional formats such as desktops and notebooks have been supplemented by various forms of tablets and smartphones. And the wild growth of the Internet of Things now means that connected devices as sophisticated as RFID-based sensors or as mundane as copiers and refrigerators are now part of the endpoint computing ecosystem.
While this transformation of endpoint computing has opened up exciting new business opportunities and given business users and consumers alike access to untold amounts of insightful information, it has come with a price: dramatically increased cybersecurity risk at the endpoint.