Comparison of Comodo Antispam Gateway vs SPAMfighter Mail Gateway
A spam fighter or anti spam is any tool used to fight spam. Spam is a dreaded affair as it does not serve any useful purpose. Spam is widely used for commercial marketing and for sending fraud mail, phishing mail, phishing campaigns, identity theft, mails with malicious attachments and mails with disguised links. The disguised links lead to websites that host malware or to dangerous phishing websites.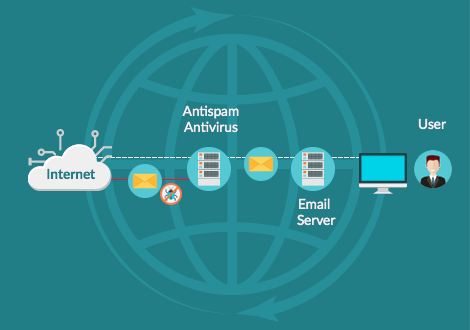 Apart from the malicious nature, the volume of spam that travels over the internet drastically affects bandwidth, computer resources, server performance and hogs the network. It is a public endeavor to develop anti spam tools to block spam at the initial levels, however, as it is easy to create and send spam it has proved to be quite successful for spammers or spam masters.
There are many anti spam filter tools for home and enterprise usage. This article is a comparison of the Comodo Antispam Gateway and SPAMfighter Mail Gateway — two popular tools.
SPAMfighter Mail Gateway
The SPAMfighter is a popular spam filter for Outlook, Thunderbird, Windows Mail and Windows Live Mail. This tool protects multiple email accounts from phishing, identity theft, and other email fraud. It offers a facility to blacklist and block emails and domains and report abuse. It also features automatic whitelist management. For corporate environments, the SPAMfighter Mail Gateway integrates perfectly with existing e-mail infrastructure. It is easy to install, and requires no daily maintenance and can handle up to 200,000 emails per hour. SPAMfighter also supports installation in virtual windows environments to secure the company's e-mail environment.
SPAMfighter review
A Virus Bulletin SPAMfighter review reports a total SC rate of 98.03%. It reports that "SPAMfighter's free product protects the inboxes of many a home-user." Its server product "can run together with Microsoft Exchange or Lotus Domino." "Installation is smooth and the product can be set up easily through a simple web-interface. I was charmed by a graph that showed how many spam emails had been caught and, at $0.04 per email, how much money was thus being saved: while these numbers are nothing but a rough estimate, they show how essential a spam filter is in a business setting.
Unfortunately, the product blocked what it thought was spam a little too eagerly and various legitimate emails were wrongly classified. In particular, newsletters and press releases were blocked and the number of false positives was about twice as high as that of the average product. Hence, despite a decent spam catch rate, the product failed to win an award on its first entry in the test." - Virus Bulletin SPAMfighter review.
Comodo Antispam Gateway (CASG)
Comodo Antispam Gateway (ASG) utilizes unique containment technology to ensure that all risks are fully contained before they reach the end point. This completely prevents any risk of infection even from the newest malware and zero-day malware.
Comodo ASG has filtered over 400,000,000 email messages and has caught 340,000,000 spams. It has blocked 4,000,000 email-based malware.
Comodo ASG is being used in over 100 million endpoints that are under protection and have suffered zero infections.
Comodo ASG Spam fighter is the only anti-spam email solution that stops zero-day malware, by automatically running unknown files in Auto-containment. And even when the behavior of the spam file is being observed, users can open, execute, and use those files with zero risks of infection. Comodo's cloud-based file verdicting platform - Valkyrie – uses multiple analytic techniques, as well as in-depth human expertise to provide a verdict on the suspected spam file.
FREE TRIAL

|

Start Your 30-Day Free Trial Now
Comodo Antispam Gateway Reviews
"Being the administrator at an educational institution is tough. The kind of files that students download are terrible. This led to voluminous spam targeted at the mail accounts and our mail servers got stressed. Based on recommendation we got this cloud-based spam filter and it has been doing wonders."
"Bye Bye Malware Via Mails! We no longer fear downloading mail attachments, since we started using Comodo Anti-Spam Gateway. Offer solid protection."
"Our corporate network is safe, finally! We have been battling the spam menace for long. It was recently, when Nils, our new GM insisted on having Comodo Antispam Gateway that we switched over to Comodo. Wonderful results. Our corporate network is finally safe, the gateway filtering works wonderfully well. They way it intercepts all messages and filters them before forwarding to our server..wow, amazing! Thanks, Nils."
"Comodo's antispam application fights spam attacks like a champ. Junk mails were creating havoc in your mail server, but now thanks to ASG we are almost spam-free. It's simple to install, ease to use and reasonably priced."
Effective Spam fighters
Most spam fighters including the SPAMfighter Mail Gateway follow the traditional signature and rules-based method to filter spam. This is effective against "known" type of spam files. This method is effective as far as the definitions are constantly updated and maintained.
However, spammers create new types of spam files or new versions of spam files that do not get detected by traditional spam fighters. A study of reviews would disclose the limitations of signature and rules-based spam fighter solutions. Using such spam fighters and anti apam tools is a futile effort against evolving spam spreading methods.
Effective Spam fighters are those that eliminate email-borne malware threats to your network and data and eliminate bandwidth wastage. They must be able to analyze unknown files without affecting the performance of the user and the system. This is where the Comodo Antispam Gateway scores over the SPAMfighter Mail Gateway and all other spam fighters.