Comodo Donates to Local Charity to Give Back to the Community
Company Recognizes the Benefits of Employees' Charitable Contributions
JERSEY CITY, NJ, December 14, 2010 – Comodo, a leading Internet security organization, is proud to announce that the company has donated in excess of $1,600 to Hudson Cradle, an infant group home in Jersey City providing full, nurturing care to homeless infants with complex health, development, social and safety needs. The donation is a combination of employee contribution with and matched company gift.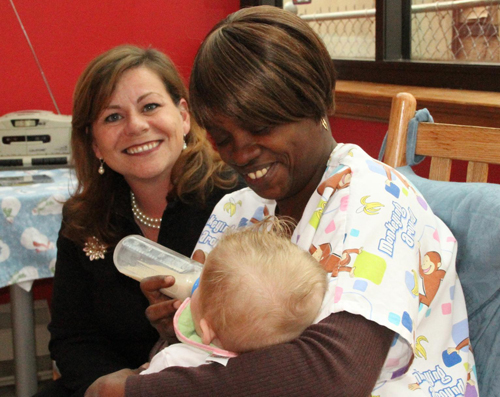 Photo Caption: (left to right) Elene Balasis, director of Human Resources at Comodo, looks on as Hudson Cradle nurse, Wanda Hayes, feeds a contented baby during a visit to the infant group home in Jersey City.
"This donation offered Comodo employees a Win-Win opportunity during this holiday season of giving to share and help others in the community by donating to this worthy charity," said Elene Balasis, director of Human Resources at Comodo.
"At Comodo, we have always valued our relationship with various charitable organizations. As companies continue to cut back, we understand the importance of giving back now more than ever. That's why we pledged to help those in need," said Melih Abdulhayoglu, Comodo CEO and chief security architect.
Hudson Cradle is an infant group home providing full nurturing residential care to homeless infants with special needs. Most of the babies are prenatally drug exposed, usually cocaine and heroin, some are HIV exposed, and some have been abused or neglected. All of the infants are under the supervision of the Division of youth and Family Services. Hudson Cradle also provides family support and community education. Since opening its doors in 1992, Hudson Cradle has provided a loving home to over 500 infants.
About Comodo
Comodo® is a leading brand in Internet security. With US Headquarters in New Jersey and global resources in UK, China, India, Ukraine, and Romania, Comodo provides businesses and consumers worldwide with security and trust services, including digital certificates, PCI scanning, desktop security, and remote PC support. Securing online transactions for over 200,000 businesses, and with more than 25 million desktop security software installations, including an award-winning firewall and antivirus software, Comodo is Creating Trust Online®. To learn more, visit Comodo's website.
For more information, reporters may contact:
Robin Carley,
Comodo Public Relations and Corporate Communications
Office: 201-963-0004 x 4073
E-Mail: robin.carley@comodo.com