Premium
Cleaning
Internet Security
Pro 10
Internet Security
Complete 10
do better than Comodo's Premium Cleaning. Our live GeekBuddy Microsoft Certified PC experts will thoroughly scan and scour you computer, leaving it totally virus-free and back in peak condition and top speed.

Comodo Premium Cleaning
Thoroughly cleans
Detects and removes viruses
Restores speed
Provides expert support
7 day term

$19.99
One Time Cleaning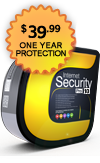 If you loath viruses enough to want them exterminated for a year, get Comodo Internet Security Pro 10. Pro combines Comodo's
award-winning Firewall with an Antivirus that features our White List strategy and the Sand-Boxing technology. But best of all, Pro starts by assigning our GeekBuddy Microsoft Certified experts to rid your PC of viruses. And they're tenacious 24/7/365 problem solvers you can reach anytime simply by clicking a desktop icon! No wonder Pro comes with the only $500 Virus-Free Guarantee.

Comodo Internet Security Pro 10
Scans and scrubs your PC of viruses and keeps it clean for a year
Prevents viruses from even entering your PC
Combines the latest Auto-Sandboxing & White List technologies
Quarantines and destroys all threats
Alerts you to all threats
Provides 24/7/365 unlimited Live Expert Virus Removal
Comes with the industry's only $500 Virus-Free Guarantee

$39.99
One Year Protection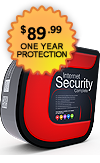 But if you utterly despise viruses sooo much that you crave their total annihilation. And you'll settle for nothing less than unsurpassed protection
thereafter, no matter where you are, even on a wireless device. And you also insist on 10GB of online backup, data transfer and everything that comes with Pro, Comodo Internet Security Complete 10 is what you need.

Comodo Internet Security Complete 10
Scans and scrubs your PC of viruses and keeps it clean for a year
Prevents viruses from even entering your PC
Combines the latest Auto-Sandboxing & White List technologies
Quarantines and destroys all threats
Alerts you to all threats
Provides 24/7/365 unlimited Live Expert Virus Removal
Comes with the industry's only $500 Virus-Free Guarantee
Provides 10GB of Cloud Storage to prevent any loss of information
Provides impregnable WiFi security

$89.99
One Year Protection