WHAT IS MANAGED DETECTION AND RESPONSE (MDR)?
Organizations — no matter how big or small — are finding it harder to fight cybersecurity threats today than a few years ago. A recent Enterprise Strategy Group (ESG) survey revealed that 63% of organizations claimed that it is harder to analyze threats today than it was 2 years ago due to the ever-evolving threats, the rising volume of cybersecurity telemetry data, and the increasing volume of alerts. This crucial problem can be addressed significantly through Managed Detection and Response (MDR), which is tapped to protect data and assets against threats that can penetrate organizational security controls.
It is one of the most used cybersecurity services that can effectively provide clients with the correct balance of technology and human expertise to actively detect threats, monitor the network and the entire system, and respond accordingly when malicious activity is found.
Through managed detection and response providers, organizations will be able to utilize an additional layer of cybersecurity protection, as this solution focuses on detecting possible threats and containing attacks before they can create huge network damage.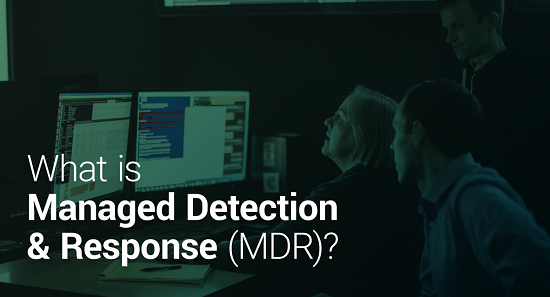 HOW DOES MANAGED DETECTION AND RESPONSE WORK?
Managed Detection and Response is a third-party solution that ensures the safety of an entire organization by protecting them against threats, malware, and malicious activity. Service vendors provide their clients with a dedicated team of IT experts who can monitor threats and make sure that they are not exposed to the most sophisticated vulnerabilities. All of these were done 24/7 with the help of up-to-date technologies and software.
Most importantly, MDR solutions help organizations to have access to an outstanding and combined expertise that is hard to acquire in their in-house IT department. With this, their IT security team can intelligently spend their time and effort on core business operations and more important tasks.
HOW DOES MDR WORK?
The best thing about managed detection and response is the ability to secure networks 24/7 even when the experts working for you aren't physically present in your office. Its main work is to remotely detect, monitor, and respond to threats and malicious activities seen within your network.
This solution allows organizations to address the overwhelming volume of alerts and determine which of them needs to be prioritized. In addition, through this service, a network will have the ability to know which of the detected events are false and real threats through automated riles and human inspection. As a result, alerts will become more streamlined and accurate moving forward.
MDR will also run various critical processes to analyze what type of risk that your network may be exposed to, hence, it can give you the right steps to fight the attack and prevent whooping network damage that can disrupt your operations.
Managed detection and response solutions are also backed by experts who can efficiently identify your vulnerabilities and eliminate your network's weakest areas. They will also deliver additional context, enabling organizations to understand what happened, what made the attack possible, and how far threats went. Having this in-depth information allows the IT team to create an effective plan to enrich their cybersecurity response.
BENEFITS OF MDR
It guides organizations to launch an intelligent response.
Unlike when relying entirely on software or technologies, this solution combines the accuracy of a solution and human intelligence when analyzing attacks, malicious activities, and security alerts. This allows organizations to come up with a guided response and actionable advice on how to fight threats, and how to protect the network from the most sophisticated ones.
It helps organizations to recover valuable data.
So, what happened when an attack was able to penetrate the network? Managed detection and response solutions will be able to alert the IT security team, allowing them to identify the threat and stop it before its damages spread widely within the network.
Meanwhile, it also enables organizations to recover important files, information, and data before the attack happens. To make this possible, the solution will remove malware, clean the EDR entry, eject intruders, and remove other malicious activity.
It gives organizations the skills and expertise they need to protect their network at a much affordable cost.
Threats still target those who are vulnerable, so, organizations that don't have enough budget to train staff for EDR tools will most likely suffer from cyberattacks. This can be solved easily through managed detection and response services that offer EDR tools.
TAKEAWAYS
Keeping your organization safe doesn't have to be expensive. Through managed detection and response solutions, your team can prevent attacks and malicious events from entering your network.
For a more sophisticated solution to fight cyberattacks, Comodo MDR can deliver fully managed solutions that will let you focus on your business goals while you effortlessly protect your networks from threats.
Contact us today to get started.