WHY YOUR COMPANY NEEDS TO HAVE IT SECURITY MANAGED?
No matter how small or large your company is, having a strong, streamlined security system is more crucial than ever. Keep in mind that this aspect of your organization is what stands between your business and an ever-increasing number of attacks on your network.
That said, you may want to consider having your security managed.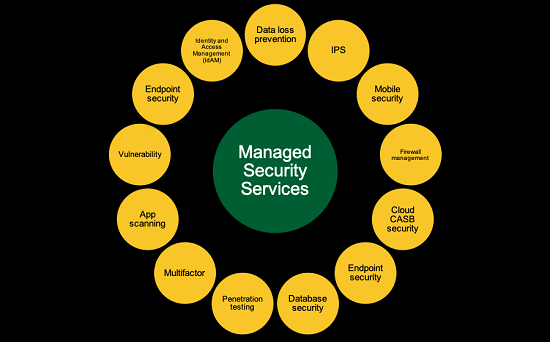 WHAT IS MSSP? (MANAGED SECURITY SERVICE PROVIDERS)
Managed security service providers can help you seamlessly and effectively fulfill your security and compliance needs. They aim to assist organizations in dealing with two main issues concerning security:
Human error
Human error is one of the main reasons why data breaches occur. This doesn't only involve employees who deliberately act with malicious intent but also those who are negligent of your company's security measures.
Limited security staffing
Not every organization has the capacity to establish a solid IT department for reasons, such as a lack of local talent. This shortage of capable IT security staff keeps companies from achieving their data security goals.
Addressing such situations can ultimately provide your business with the following benefits:
Save capital and staff resources
Decrease the number of actual threats
Increase time-to-respond and remediate
Refocus the organization on dealing with core business objectives
Turning to managed security service providers to have your IT security managed could be a great choice if your company seeks help with the following:
Successfully pass security audits
Respond to and investigate incidents
Help manage the workload for your internal staff
Prevent and/or mitigate data breaches
Sharpen your competitive advantage
Grow your business
Here are some of the most important reasons why you should have your IT security managed as early as today:
IMPORTANCE OF IT SECURITY MANAGED
A lot of organizations still tend to put off implementing strong security initiatives until they have suffered damage as a result of a data breach. You don't have to learn the hard way.
Here are some of the most important reasons why you should have your IT security managed as early as today:
STAYING AHEAD OF SECURITY THREATS

MANAGED SECURITY SERVICE PROVIDERS HAVE THE EXPERTISE AND TOOLS THAT YOU MAY NOT HAVE

ALLOWS YOUR INTERNAL STAFF TO FOCUS ON VALUE-DRIVEN WORK
Managed security service providers can provide you with continuous oversight. This is something that would require you to shed a large investment in manpower and technology when handled in-house.
Staying ahead of security threats
With the fast evolution of the digital landscape, cybercriminals also find ways to develop different types of cyber threats at a fast rate. Not choosing to have your IT security managed can make it hard for you to keep up with evolving threats, address new threats, and recover from incidents that are detected too late.
Managed security service providers have the expertise and tools that you may not have
Reliable managed security service providers have the tools and extensive knowledge that an in-house IT team may not possess.
Utilizing these resources allows these providers to improve your network security infrastructure as a whole. Not to mention that they have in-depth knowledge of common and obscure network security problems, which your organization can greatly benefit from.
What's more, managed security service providers are more flexible and adaptable, thanks to their experience working with other industries and verticals.
Allows your internal staff to focus on value-driven work
Monitoring responsibilities eat a lot of time and resources, which often distracts employees from the core mission. Another advantage of having your IT security managed is the opportunity to free up your internal IT team members for them to focus on tasks that drive business goals.
Instead of dealing with intensive security issues, your team can divert their time and provide more support to help your company meet overarching business objectives. Managed security service providers are able to take the pressure off of your team and boost opportunity for innovation.
Reduce costs
Compared to outsourcing, hiring an in-house network security expert is much more expensive for most companies. Remember that it takes a team to build a broad, informative knowledge base that truly provides effective protection from data security threats.
When you choose to have your IT security managed, you can have access to large teams of experienced security professionals for a fraction of the cost when you hire them internally.
Managed security service providers can also improve the costs for each customer by dividing their labor among several customers. Doing so enables them to acquire a broad level of experience when it comes to network security and data threats.
Conclusion
When it comes to online criminal activity, larger organizations are not the only targets for cybercriminals. Small to medium-sized businesses are also often picked out since they don't think it can happen to them.
If you want to properly deal with all kinds of cyber threats lurking around your business network, you must ensure that your company has a strong IT security system. It should be able to efficiently address technical cyber risks, including policies and the staff within your organization which may pose further risks.
Having your IT security managed by experienced professionals like Comodo provides you with around-the-clock monitoring, which is crucial for protecting your databases and servers from hackers. Contact us now to know more about our security solutions!
Enterprise Password Management
Managed Detection and Response