Comodo Internet Security Software gives you:
Comodo Antivirus
Our software's Antivirus detects and eliminates viruses, worms, Trojans and other PC Invaders. But unlike most other Internet security software, it employees Auto-Sandboxing technology that stops, scrutinizes, quarantines-for-analysis or rejects and destroys any file trying to gain access to your PC. This makes your computer impenetrable!
Our Antivirus:
Detects, blocks and destroys viruses
Isolates suspicious files for analysis
Constantly protects with real-time on-access scanning
Employs the latest Auto-Sandboxing technology
Automatic updates of virus definitions
Comodo Firewall
Internet Security Pro's Firewall is your first line of defense against hackers, viruses and malware. And we employ our own patented, award-winning Default Deny Protection technology.
Our Firewall:
Keeps you updated on all suspicious files
Prevention-based technology stops viruses
Default Deny protection so only safe files execute
Easily learns your PC habits for personalized alerts
Automatic updates for the most current protection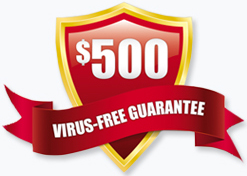 Comodo's Exclusive Guarantee.
If your PC gets infected by a virus after Comodo Internet Security Pro or Complete 10 is properly installed and registered, our online GeekBuddy support technicians will restore your PC to working condition. If we cannot restore your PC due to a virus infection, Comodo will cover up to $500 in repair costs, using an authorized repair center.*