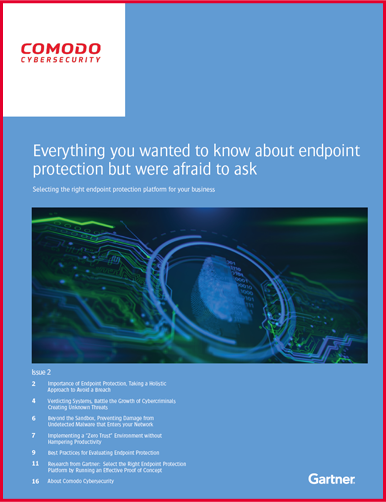 Selecting the right endpoint
protection platform for your business
Protecting endpoints from today's ever evolving threat vectors requires endpoint protection solutions to use more than detection technology and whitelists to identify good and bad files. Endpoint protection must evolve into a platform approach to prevent damage from both known and unknown threats.
Highlights from the FEATURED GARTNER REPORT:
Importance of Endpoint Protection
Verdicting Systems
Beyond the Sandbox
Implementing a Zero Trust Environment
Best Practices for Evaluating Endpoint Protection
Research from Gartner
Everything you wanted to know about
endpoint protection but were afraid to ask
As organizations notice capabilities or process changes that conflict with their current implementation, they should not ignore these changes purely because "It's how it's always worked." Many organizations have policies and processes that are decades old, written for a time when threats were different and mitigations did not exist.
Today, most endpoint vendors are using a Default Allow approach, meaning that only applications or executables deemed malicious are blocked from executing on an endpoint. The shift from Default Allow to a Zero Trust architecture can prevent unknown threats from damaging endpoints.