Improve Email Deliverability with A Spam Filter Device
First, let's get one thing straight - there's no way in this world you can end spam entirely. Most email clients, if not all, have the ability to filter spam. This feature works by moving suspicious messages to a separate folder, also known as spam folder. Yet, like any other software, a spam filtering feature on an email client isn't perfect. The best thing you can do is to choose an effective anti spam filter device.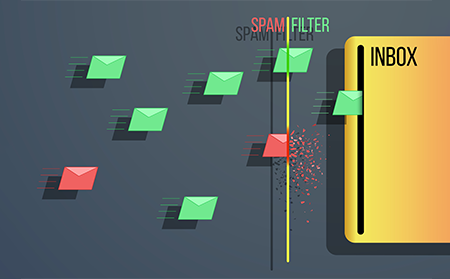 Spam Filter Device: Types of Spam Filters
Spam filters are originally designed to help users detect, identify and prevent junk mails. Today, most anti spam providers use efficient email filters to categorize a message, thus improving email deliverability. Here's a list of some of the most common anti spam filters:
Rules-based filters - these filters use user-defined rules to prevent spam from reaching your inbox.
Bayesian filters - one of the most powerful filters to ever exist, a Bayesian filter uses advanced technology to check all incoming messages and their statistical probability.
Content filters - these filters review the words and the contents of a message to determine if they are safe or spam.
Blacklist filters - these filters block all emails from a customized list of spammers known as a blacklist.
Challenge-response filters - the main purpose of a challenge-response filter is to ensure that an actual human is sending the message.
A challenge-response filter will require a sender to enter a code before gaining permission to send an email.
Common Misconceptions about Anti Spam Filter Device
A firewall alone provides enough protection
True enough, an efficient firewall can provide a certain level of protection. However, a firewall alone isn't enough to detect viruses and malware in real-time. This is where the need for an effective anti spam Filter device comes into play.
Non-Windows users are safe from malware attacks
Although Windows users are more susceptible to sophisticated attacks, all platforms regardless of the operating system are still vulnerable to viruses, malware, and phishing attacks.
OSX/MaMi, for instance, is a form of malware in Mac OS which arrived in 2018. It allows hackers to install a new root certificate and hijack the DNS servers. OSX/MaMi gives cybercriminals a way to perform a "man-in-the-middle" attack.
An anti spam filter device is too expensive
Many businesses perceived that employing a trusted anti spam software can cost a lot. While opting for an appliance-based filtering solution can be a bit expensive, choosing a cloud-based spam filter device can be a great alternative.
Most cloud-based filtering solutions are typically priced on a per user, per month basis. In addition, unlike other filtering solutions, anti spam on the cloud requires no additional licenses, thus, lowering the total cost of ownership.
An anti spam filter device is hard to install
Technically speaking. Most forms of spam filtering solutions are complex in nature. Hardware-based filters, for example, will somehow test your patience as it can be difficult to install and configure. Thankfully, filters with a web-management console such as Comodo Antispam Gateway now exists.
Comodo Antispam Gateway features a web-based management console and a centralized interface which make it easier for administrators to manage and customize.
Choose Comodo Antispam Gateway: The Best Spam Filter Device of Today
A report says that six out of ten emails received by employees are considered as spam. These spam emails are made of intrusive offers, endless announcements, and annoying inquiries. Imagine the time and effort needed to properly sort spam from safe messages. Instead of using their precious time and energy for more valuable stuff, employees are forced to deal with annoying spam. Thus, it is important to use an effective spam filter device such as Comodo Antispam Gateway.
Comodo Antispam Gateway, a cloud-based email anti spam filter device, is an advanced filtering solution designed to restore employee productivity while saving an organization from possible effects of sophisticated email attacks. Comodo Antispam Gateway has a centralized, web-based management console which makes it convenient for administrators to control and customize. This effective spam filter device offers advanced settings which include adding users and domains, configuring mail blacklists and whitelists as well as managing quarantined emails. To make it even better, Comodo Antispam Gateway also features containment technology which works by keeping threats under control or within certain limits. Suspicious files are processed in a contained area allowing users to navigate their system while still providing protection at the same time.
Improve email deliverability while protecting your system all at the same time. Choose the best anti spam filter device, choose Comodo Antispam Gateway now! Visit our website or click here for free trial.
Free Trial

|