Common Myths about an Anti Spam Cleaner Freeware Debunked
Email spam is one of the biggest frustrations in the internet world. The most recent report from Statista shows that email spam accounted for a whopping number of 53.5 percent of the total email volume. That's a lot of email spam! Imagine the possible effect of an infectious email to businesses. It can affect almost all aspects of your organization. Email spam can reduce your employee productivity, can infect your system, and cost you a lot of money. To prevent any security incidents from happening, it is best to choose the best anti spam cleaner freeware.
A reliable anti spam cleaner freeware offers excellent email filtering. It refers to a process that uses a set of criteria to sort those legitimate from email spam. An effective email filtering eliminates unwanted and suspicious emails from your inbox. Thus, saving you from possible danger. This only proves that email filtering is essential for stronger internet security.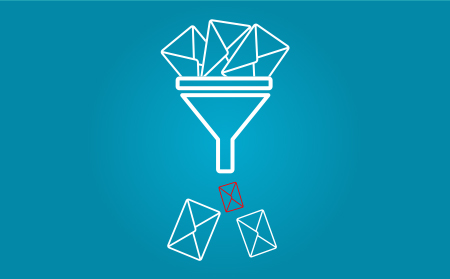 3 Common Myths about an Anti Spam Cleaner Freeware
Email is the leading source of malware infections. Verizon's 2018 Data Breach Investigations Report states that 92.4% of the total malware volume came from email. This only shows that a reliable anti spam cleaner freeware is a must.
The need for a strong anti spam program is loud and clear. Yet, some people still believe in some misconceptions about internet security. Here's a list of three common myths surrounding email security:
I don't need an anti-spam cleaner freeware. I have an anti-virus solution in place.

The number of sophisticated threats is growing. Often, people fall unto these threats because of the things they believe in. You might say that you have the strongest antivirus in place. But that doesn't make you less of a target. In fact, no security solutions can save you from spammers. A spam email, for instance, can be a carrier of viruses, malware, and other internet infections.

Depending on one security program alone can put you at risk. The existing development of even more sophisticated attacks calls for a stronger solution. A reliable anti spam program like Comodo Anti Spam Gateway can be a great option.

I don't need an anti-spam cleaner freeware. What I need is a strong password.

True enough, we all need to set a strong password. An ideal password should have more than 15 characters with upper and lower cases. It should also include numbers and symbols. Choosing a random password is also a good choice as it will be harder for hackers to break.

A strong and complex password is an important aspect of internet security. But this won't be enough to prevent cyber attacks. One good way is to use a reliable spam cleaner freeware.

I don't need an anti-spam cleaner freeware. Email spam is easy to spot.

Poor quality email spam consists of grammar errors, misspellings, and suspicious email addresses. But not all email spam can be easy to spot. Some email contents are well-made that you won't think of anything negative.

You can avoid threats on email by analyzing the content itself. Yet, this may not give you the guarantee that you won't miss a single threat. The best way to protect yourself is by using an excellent anti spam program.
Comodo Anti Spam Gateway: One Of The Best Anti-spam Cleaner Freeware Is Here
Numbers of sophisticated attacks are increasing. This is why the need for a strong security solution is a must. Protect yourself against harmful cyber threats. Choose the best spam cleaner freeware like Comodo Anti Spam Gateway.
Comodo Anti Spam is one of the most reliable spam cleaner freeware in the market today. It aims to detect, identify, and combat all possible forms of email spam. Comodo ASG is a cloud-based email filtering solution that forms a pre-perimeter defense. Hence, providing exceptional protection. No one does an exceptional job of improving user productivity other than Comodo. It features a multi-layered filtering technique for leading accuracy rates. In fact, false positive rates from Comodo Anti Spam Gateway are less than 2 in every 1 million emails.
Don't settle for a strong password. Never trust a single security solution. Don't underestimate the power of email spam. Equip yourself with one of the best spam cleaner freeware now! Choose the best anti spam program and see it yourself. Choose Comodo Anti Spam today! Know more about Comodo ASG and its features by visiting our website or by clicking here for free trial.
FREE TRIAL

|

Start Your 30-Day Free Trial Now