Counter Dark Web Activities
with Advanced Penetration Testing
We examine your entire organization's network from the inside and outside of traditional approaches.
39
seconds another hack will likely occur
Instantly zero in and deal with what truly matters, protection from unknown files causing damage. All unknown files will only be executed within our patented containment solution that offers zero friction for end user usability.
learn more
38
percent of targeted attacks occur in the u.s.
US topped the list as hosting the most malware. Broken out by US states, the top 5 malware-infestations were Arizona, California, New York, Virginia, and Texas.
learn more
92
percent of all malware is delivered by email
Email continues to be the most popular means of malware delivery. Email represents the cheapest, simplest and most effective tool to exploit as many victims as possible in the shortest timeframe to spread malware.
learn more
86
percent of phishing attacks are u.s. victims
Secure Email Gateways will enable the neede security rules to stop phishing carried out by email spoofing, and attempts to direct recipients to enter personal information at fake website to the spoofed legitimate equivalent.
learn more
196
days on average to identify a data breach
Knowing is half the battle. Leverage our verdicting platform to access 100% trusted file verdicts within 45 seconds on 92% of malware via analysis, and 4 hours on the remaining 8% via human experts.
learn more
Validate Your Cybersecurity Score with our Instant Security Scorecard
Our process for providing intelligent cybersecurity solutions are unique to every organization. We examine your entire organization's network from the inside and outside of traditional approaches.
GET MY SECURITY SCORE →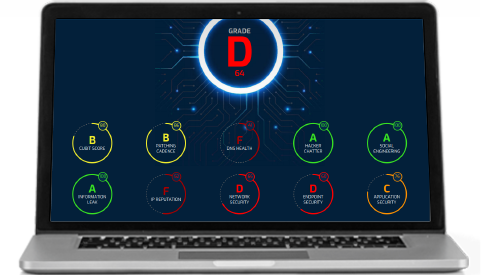 Services & Solutions
INSIDE THE DARK WEB.
11/06/2019
Kamerka OSINT Shows Critical Infrastructure Connected to the Internet in Your Country
Kamerka allows you to see what a hacker is looking at. It draws up maps with SCADA devices, webcams and printers which have been displayed in any particular country on the Internet. A Polish securi...
continue reading
11/05/2019
Compromise Email is the latest Identity Disappointment Assault
Deception in identity attacks continues to increase, but the type of attack seems to change. In Q3 2019, phishing campaigns by brands fell 6% compared to the previous quarter. Nevertheless, assault...
continue reading
11/04/2019
Hackers are Guilty of Software Breach that is Shielded
Two computer hackers pleaded guilty to developing an extort scheme that tangled Uber in a year long cover-up of a data breach that stolen sensitive information from approximately 57 million passeng...
continue reading